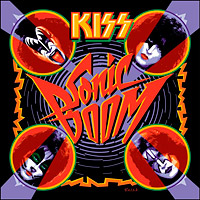 Das neue Studioalbum "Sonic Boom" von KISS ist seit dem 02. Oktober via Roadrunner Records im Handel!
KISS haben bekannt gegeben, dass "Sonic Boom" – das lang erwartete neue Album und das erste neue Material seit 11 Jahren – in Europa bei Roadrunner Records veröffentlicht wird. In ihrer 35-jährigen Karriere haben KISS weltweit über 80 Millionen Alben verkauft. "Sonic Boom", das von KISS Sänger und Gitarrist Paul Stanley in Los Angeles produziert wurde, enthält 11 brandneue Hymnen der Band.
Bassist Gene Simmons sagt: "SONIC BOOM may be the best new record we've done since Destroyer! It is Rock And Roll Over meets Love Gun!". Paul Stanley stimmt zu: "SONIC BOOM is the perfect title for what we're creating – it's earthshaking and deafening"!
"Sonic Boom" ist das erste neue KISS Studioalbum, auf dem Gitarrist Tommy Thayer mit Paul Stanley, Gene Simmons und Schlagzeuger Eric Singer zu hören sein wird. Es wird als Einzel-CD und ebenso als Special CD/DVD Set erhältlich sein. Die Special-CD/DVD Version wird neben dem aktuellen Album neu eingespielte Greatest Hits und eine in Argentinien aufgenommene Live-DVD der aktuellen KISS ALIVE 35 Südamerika Tour enthalten.
Paul Stanley: "Through all of the albums that are considered our classics, we tried to always find ways to give our fans extras that went beyond just the music. Besides our making the best KISS album in decades, including a bonus CD with 15 of our most famous songs and an additional live DVD, shot during our recent concert in Buenos Aires. So in every sense, SONIC BOOM is the ultimate return to classic KISS form. You wanted the best, you got the best"!
"Sonic Boom" wird von Roadrunner Records/Loud & Proud veröffentlicht. Loud&Proud Präsident Tom Lipsky kommentiert: "Great artists make great music and KISS has certainly accomplished that with "Sonic Boom". Roadrunner-Vizepräsident Wally van Middendorp fügt hinzu: "We are excited to have the world's premier rock band join forces with the world's premier rock label. "Sonic Boom" is a brilliant album that will surely be recognized as one of best musical works in the history of KISS." Paul Stanley ergänzt: "Success comes from a winning team, and Roadrunner is the perfect partner for KISS in terms of understanding what this album is and also having a great track record of success."
Link: www.kissonline.com