Die norwegisch-amerikanische Gruppe Combichrist präsentiert sich auf ihrem neuen Longplayer von ihrer kompromisslosesten Seite. "This Is Where Death Begins" ist ein apokalyptischer Moloch aus Gitarren, Elektronik, Höllentrommeln und dunkler Urgewalt.
Make Europe Great Again – The Tour 2016!
Im Sommer bringen wir ein Industrial-Rock-Line-Up der Superlative auf Tournee, wie es Europa so noch nie zusammen erlebt hat. Mit der absoluten Traum-Headliner-Doppelspitze Combichrist und Filter, den deutschen Überfliegern Lord Of The Lost und den mexikanischen Industro-Punkern Rabia Sorda rockt das gigantischste Superheldenteam der Szene die Bühnen Europas in Grund und Boden:
Das norwegisch-amerikanische Kollektiv Combichrist entfesselt live mit seinem Höllenritt aus Metalcore, Industrial, Elektronik, herumfliegenden Drumteilen und ungebremstem Wahnsinn den puren Exzess. Mit ihrem neuen Album im Gepäck und von der puren Essenz aus Sex, Drugs & Rock'n'Roll beseelt, wollen Combichrist DICH!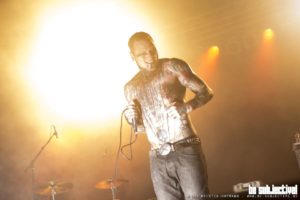 Zu der US-Industrial-Rock-Legende Filter muss man eigentlich nicht viele Worte verlieren. Ihre Alben sind absolute Genre-Klassiker und mit ihrem im April erscheinenden neuen Werk "Crazy Eyes" gehen sie wieder auf volle Attacke. Auf der Bühne fegen sie dich mit Richard Patricks Ausnahme-Stimme, einer infernalen Performance und einem Sog aus Aggression und Emotionen von den Füßen.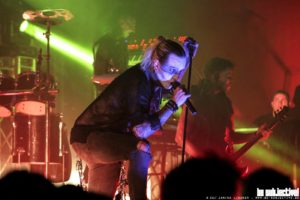 Die Hamburger Band Lord Of The Lost wird mit ihrem derben Mix aus Dark Rock, Industrial-Metal, Gothcore, Glam und sympathisch-wilder Bühnenshow nicht umsonst als eine von Deutschlands besten live-Bands gehandelt. Auf der Bühne lassen Lord Of The Lost nichts anbrennen und ergänzen ihre Kollegen aus Übersee perfekt.
Special Guest ist die mexikanische-deutsche Band Rabia Sorda. Der wilde Electro-Punk-Industrial-Bastard von Hocico-Frontmann und Bühnen-Wirbelwind Erk Aicrag ist live ein absoluter Mitgeh-Garant und somit der ideale Opener für diesen Abend.
Join the movement! Industrial-Rock-Revolution will make Europe great again.
Die Dates:
June 03, 2016 Hamburg (GER) – Große Freiheit
Combichrist / Filter / Lord Of The Lost / Rabia Sorda
June 04, 2016 Erfurt (GER) – HSD-Gewerkschaftshaus
Combichrist / Filter / Lord Of The Lost / Rabia Sorda
June 05, 2016 München (GER) – Backstage
Combichrist / Filter / Lord Of The Lost / Rabia Sorda
June 06, 2016 Pagney (F) – Chez Paulette
Combichrist / Filter / Lord Of The Lost
June 8, 2016 Paris (F) Savignyle Temple, L'Empreinte
Combichrist / Filter / Lord Of The Lost
June 09, 2016 Köln (GER) – Live Music Hall
Combichrist / Filter / Lord Of The Lost / Rabia Sorda
June 10, 2016 Tielt (B), Europahal
Combichrist / Filter / Lord Of The Lost
June 11, 2016 Amstelveen (Amsterdam/NL), P60
Combichrist / Filter / Lord Of The Lost
June 12, 2016   Kopenhagen (DK), Amager Bio
Combichrist / Filter / Lord Of The Lost
June 13, 2016 Göteborg (SWE), Sticky Fingers
Combichrist / Filter / Lord Of The Lost
June 14, 2016 Stockholm (SWE), DB Lux
Combichrist / Filter / Lord Of The Lost
June 16, 2016 Turku (SF), Klubi
Combichrist / Filter / Lord Of The Lost
June 17, 2016   Tampere (SF), Yo-Ta-Lo
Combichrist / Filter / Lord Of The Lost
June 18, 2016 Helsinki (SF), Circus
Combichrist / Filter / Lord Of The Lost
June 19, 2016 Tallinn (EST), Rock Café
Combichrist / Filter / Lord Of The Lost
June 20, 2016 Liepaja (LV) – Fontaine Palace
Combichrist / Filter / Lord Of The Lost
June 23, 2016 Gdansk (PL), B90
Combichrist / Filter / Lord Of The Lost
June 24, 2016 Dresden (GER) – Strasse E
Combichrist / Filter / Lord Of The Lost / Rabia Sorda
June 26, 2016 Frankfurt / Main (GER) – Batschkapp
Combichrist / Filter / Rabia Sorda
June 25, 2016 Pratteln (CH) – Z7
Combichrist / Filter / Rabia Sorda
June 26, 2016 Frankfurt (GER) – Batschkapp
Combichrist / Filter / Rabia Sorda
June 29, 2016 Newcastle (UK) – Riverside
Combichrist / Filter / Rabia Sorda
June 30, 2016 Glasgow (UK) – O2 ABC
Combichrist / Filter / Rabia Sorda
July 1, 2016 Bristol (UK) – Marble Factory
Combichrist / Filter / Rabia Sorda
July 2, 2016 Sheffield (UK) – Corporation
Combichrist / Filter / Rabia Sorda
July 3, 2016 London (UK) – Heaven
Combichrist / Filter / Rabia Sorda
Links:
www.combichrist.com