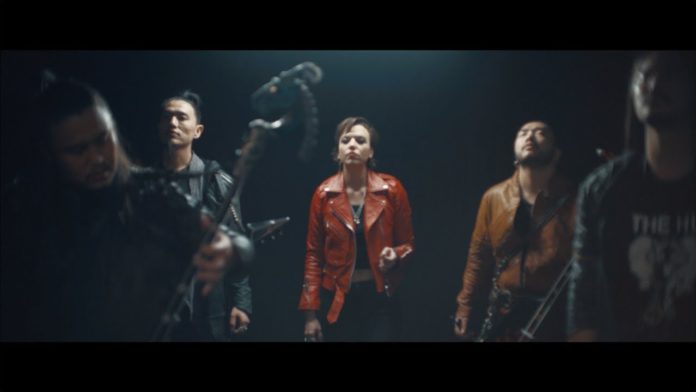 Lyrics:
The palm tree grows and flowers
As she sings softly, my soul retains
Honorable lady
Compassionate and delicate
The Argali springs and flies in the mountains
Her fondness melts me languidly
Honorable lady
Compassionate and lovely
The birds sing and tweet in the blue sky
They are happy and joyful in their souls
Honorable lady
Compassionate and mesmerizing
With the precious words of your forefathers
With the milk blessed road of your mother's, the true path
With the power of love for your motherland
Have a fighter spirit in your body, be steady
As if you were a sword with a sharp blade
As if you were an arrow ready to shoot, spring and fly, ride and rise
Infos:
Edited by: Ben Guzman Motion Graphics by: Jaclyn Cataldi

The Hu ist eine mongolische Rockband aus Ulaanbaatar. Gegründet wurde die Band im Jahr 2016. Im Herbst des Jahres 2018 veröffentlichten The Hu zwei Videos im Internet (Wolf Totem im September und Yuve Yuve Yu im November), die schnell größere Aufmerksamkeit erfuhren. Anfang Januar 2019 hatten sie zusammen acht Millionen Aufrufe, Anfang Juli 2019 waren es bereits 33 Millionen. Ihr erstes Album mit dem Namen The Gereg ist am 13. September 2019 erschienen. Die Special Edition des Albums enthält neben akustischen Versionen der Lieder auch besondere Kooperationen mit Lzzy Hale ("Song Of Women"), Jacoby Shaddix ("Wolf Totem") und From Ashes To New ("Yuve Yuve Yu").

Links:
The HU: https://www.facebook.com/thehuofficial/
Lzzy Hale: https://www.facebook.com/OFFICIALLZZYHALE/